Marie S. & Miss Kat sur le même blog? Pourquoi?
Bonjour à tous,
cet article ne sera pas écrit par Marie mais par moi-même Katrin, également connue sous le nom de Miss Kat. Vous avez peut-être déjà suivi mes aventures sur mon ancien blog. Si oui, vous me connaissez déjà...et pour ceux qui ne me connaissaient pas, je me présente : je suis une jeune femme de 24 ans, récemment diplômée en traduction, et la fille de Marie. Je suis une fille assez simple et pas compliquée qui aime les petits plaisirs que la vie nous apporte tous les jours.
Evidemment - telle mère, telle fille -, moi aussi, j'aime la broderie. En outre, je suis la créatrice des modèles Miss Kat. A présent, Marie Suarez est l'unique diffuseur de mes modèles. C'est dans cette optique que nous avons décidé d'unir nos blogs et de continuer une aventure commune sur ce blog. Dès aujourd'hui, il y aura donc deux "blogueuses", vous pourrez nous distinguer grâce à la catégorie signalée pour l'article....mais je suis certaine que beaucoup parmi vous devinerons nos styles propres à chacune.
Marie S. & Miss Kat sharing a blog? Why?
Hello everybody,
Marie is not going to write down this article, but it is going to be me, Katrin, a.k.a. Miss Kat. You might know me from my previous blog. If you do, you know me through...If you don't... let me introduce myself to you; I'm a 24-year old young woman, who has recently graduated in Translation, and Marie's daughter. I'm a easy-going and not complicated girl that likes to look at the bright side of life.
Of course,-like mother, like daughter, I do love embroidery and needle works. Furthermore, I am the designer of the patterns known under the name Miss Kat. From now on, Marie Suarez is the sole distributor of my designs. This is why we have decided to merge our blogs into one. From today on, there will be two bloggers. You will be able to distinguish the writter of the article by looking at the category of it...Nevertheless, I'm pretty sure a lot of you will make out the different styles!
Noël approche ... X-mas is on its way!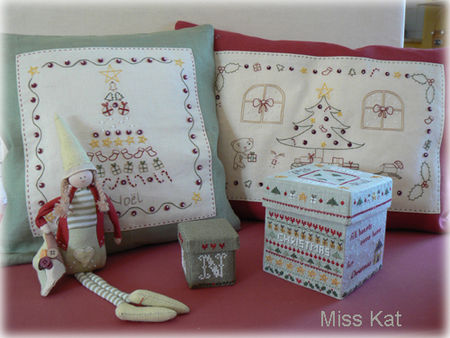 Plus que 83 jours et Noël est là! C'est une période de joie et de bonheur que nous adorons tous. Cette fête donne lieu à de réjouissances particulières desquelles nous ne voulons pas nous priver. Adultes et enfants, tous, nous l'attendons avec patience dès que l'été est terminé et que nous sentons les premiers signes du froid.
Only 83 days left and....It's Christmas! It is a period of joy and happiness that we all adore. This feast entails particular celebrations, that we won't miss. Adults and children, all of us, are waiting for X-mas as soon as the Summer is over and when the first cold signs are felt.
Cette année, je propose une jolie boîte brodée et montée en couture. On peut y glisser un joli objet de brodeuse ou encore des bonbons pour les enfants...
This year, I present a nice embroidered box, all sewed up together. The box can reveal a nice embroidery accessory or candy for the children...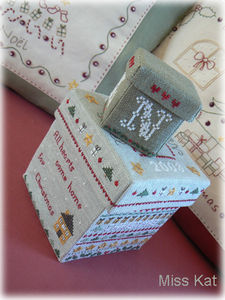 Toute la boîte est brodée...avec de jolies frises, un majestueux sapin, des petits mots doux,... La boîte mesure à peu près 11cm en hauteur.
The box is entirely stitched...decorated with lovely friezes, a majestic Christmas tree, kind words,... The box measures approximately 11cm-height.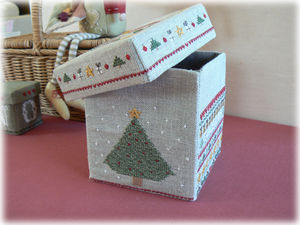 C'est un vrai bonheur, pour la brodeuse, de réaliser une boîte mignonne et d'ensuite l'offrir à un être cher.
It is a real pleasure, for the embroiderer, to realize this lovely box and then to give it to a beloved someone.
Et pourquoi ne pas décorer sa maison avec les petites boîtes (5cm de haut)?
Why not decorate your home with these little boxes (5cm-height)?
Noël chez Loli & Erin X-mas at Loli & Erin's
J'ai également le plaisir de vous présenter Loli et Erin. Il s'agit d'une nouvelle collection de modèles en broderie traditionnelle qui racontera les aventures de Loli & Erin. Loli est un mignon petit ours, Erin est sa poupée qui le suit partout... Aujourd'hui, je peux vous présenter le premier chapitre de leur vie : Noël!
I'm very happy to introduce Loli and Erin. They represent the two main figures of a new collection of designs, all made in traditional embroidery. Loli and Erin are about to have some journeys! Loli is the lovely bear, Erin, its doll that is always near him... Today, I show you the first chapter of their life : Christmas!
J'ai toujours aimé les dessins assez naïfs...Pour ce modèle, j'ai utilisé quelques points de base en broderie traditionnelle! Il est vraiment à portée de tous, et même des enfants!
I have always loved naive drawings...For this pattern, I used some basis stitches used in traditional embroidery! It is really simple to do, even children can achieve this!
Je me suis régalée à broder ce Merry Christmas!
It was so nice to embroider this Merry Christmas!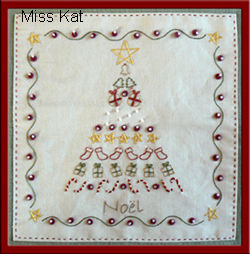 Ici, le sapin de Loli & Erin, que j'ai monté en coussin (voir la première photo)
Here is the Christmas tree of Loli & Erin..I have made a cushion of it ( see the first picture)
Tous ces modèles sont en vente dans la boutique du site ainsi que chez nos points de vente. Si vous voulez les connaître, n'hésitez pas à nous envoyer un petit mail à mariesuarez@skynet.be
These designs are available at the Marie Suarez Shop and at the different outlets. At any request, feel free to contact us at mariesuarez@skynet.be
Loli aime broder Loli loves stitching
Loli aime broder et affirme sa passion... Loli loves stitching and goes for it!
Pour fêter la naissance de Loli & Erin, nous souhaitons vous offrir ce petit free :
In orde to celebrate the birth of Loli & Erin, we would like to offer this freebie :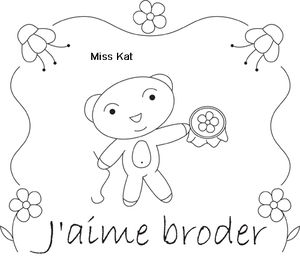 Si vous souhaitez avoir le code des couleurs que j'ai utilisé, visitez le site ce week-end. Je compte l'ajouter aux autres grilles gratuites...
If you wish to know the colour code I used, visit the website this week end. I'm going to add it to the other freebies...
Je vous souhaite à tous une bonne fin de semaine!
Have a nice week end!
* Miss Kat *